The 5th Annual Columbia City Blues Festival will present three nights of the music of Howlin' Wolf, covering different albums each night: Friday will be his debut album, Moanin' in the Moonlight; Saturday, his 1962 album Howlin' Wolf, also known as The Rockin' Chair Album; and Sunday, the 1969 Howlin' Wolf Album. Rolling Stone lists Moanin' at #154 in its greatest albums list; it was a huge influence on rock & roll and many 60s blues artists, including Eric Clapton and The Rolling Stones. The '69 album mixed blues and psychedelic rock, but Wolf disliked it intensely, and Chess Records noted this on the album cover.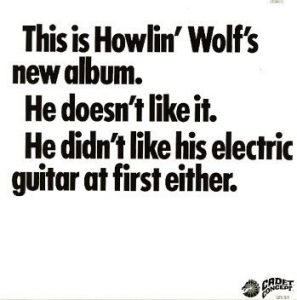 Performing will be
Tayla Lynn

Ivan Arteaga

Robin Holcomb

Jeff Fielder

Eric Eagle

Keith Lowe

Darren Loucas

Sean Divine

Ayesha "Musicbox" Brooks

Wayne Horvitz
The fest will be at The Royal Room this weekend. Show starts at 8:00PM, tickets are $12 in advance, $15 at the door.